James is from Lochinver in the Parish of Assynt in the far north-west corner of Sutherland. He started competing at Mods from as early as 9 years old under the guidance of his Primary School head-teacher, Kenny Mackenzie. He was greatly inspired also by his great Aunt Seordag Murray, a native Gaelic speaker from the nearby village of Achilitibuie, with whom he spent hour upon hour learning songs and listening to her fascinating stories and life experiences. James graduated from the Royal Scottish Academy of Music and Drama in 2003 with an Honours degree in Scottish Music. There he studied bagpipes and Gaelic song under the respected Gaelic singer and scholar Kenna Campbell.
In 2004 he won the BBC Scotland Young Traditional Musician of the Year Award - the first male and first Gaelic singer to do so. He has since appeared in several successful and award winning television and radio music series such as Transatlantic Sessions 4 and won the coveted Mod Gold Medal at the Royal National Mod in Lochaber in 2007. He is one of Scotland's best known and respected Gaelic singers and has travelled all over the world performing as a musician. James has released two acclaimed solo albums and has appeared as a guest singer on many other albums. He is currently a member of Cruinn, a Gaelic singing quartet who were nominated in the category of best folk song in the BBC Radio 2 Folk Awards, 2015.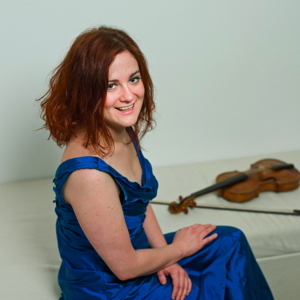 The Swiss violinist Sabine Stoffer performs as a baroque violinist throughout Europe. She plays with ensembles in the UK and abroad (les passions de l'âme, Brecon Baroque, Le Concert d'Astrée, Freitagsakademie, La Cetra, Ensemble Cordia u.a.) and is a member of the Ensemble Meridiana. With Meridiana, she has recorded their highly acclaimed debut album "Tastes of Europe" for the label Linn records. Furthermore, she plays as a leader with La Nuova Musica.

Her career has taken her to many festivals, such as the Lufthansa Festival of Baroque Music London, the Händel Festspiele Göttingen, the York Early Music Festival, the Festival Oude Muziek Utrecht or the Davos Festival, young artists in concert. She has played with conductors such as René Jacobs, Masaaki Suzuki, Richard Egarr, Emmanuelle Haïm, Andrea Marcon and Jos van Immerseel.

She studied with Monika Urbaniak at the Hochschule der Künste in Berne and earned the teaching degree and concert diploma, both with distinction. She continued her studies with Rachel Podger at the RWCMD in Cardiff and completed a postgraduate diploma in baroque violin with distinction in 2010.
Sabine is the winner of the grants of the Kiefer Hablitzel Stiftung 2008, the Marianne und Curt Dienemann Stiftung 2008, the Steinitz Bach Prize 2009 and the Göttinger Reihe Historischer Musik 2010/11 of the Händel-Gesellschaft Göttingen (with Meridiana). In 2011 she received the Coup de Coeur award for the promotion of young musicians from her native canton of Berne.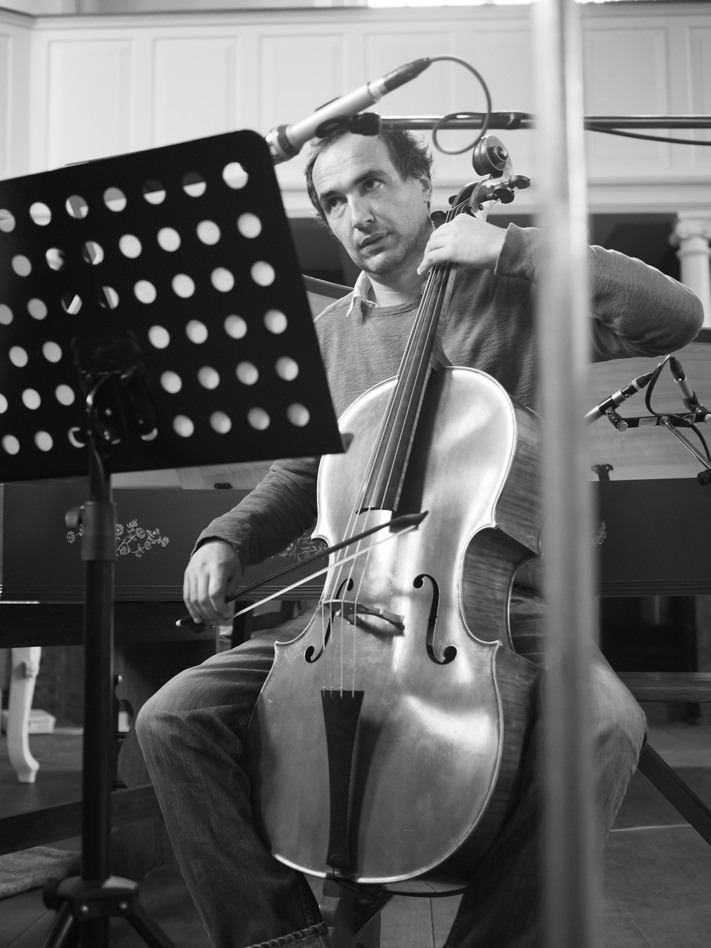 Pierre-Augustin Lay studied cello in France with Jacques Ripoche in Caen. His taste for early music lead him to the Schola Cantorum Basiliensis.(CH). Studies with Christophe Coin, Sergio Azzolini, Jesper Christensen, graduated in 2002. He has been performing regularly in ensembles such as: Le Cercle de L'harmonie, Les Musiciens du Louvre, Harmonie Universelle, Ensemble Matheus, La Cetra, Chapelle Vocale de Lausanne, Vocales basiliensis, Capella Obliqua, Schola Cantorum Orchestra, Gassenhauer Trio, Bohuslav Martinu Academy (Pragua). He has been performing with artists such as: Gustav Leonhardt, Ton Koopman, Jesper Chritensen, Chiara Banchini, Andrea Marcon, Giuliano Carmignola, Maurice Bourgues, Emma Kirkby. His passion for researching repertoire made him move to Belgium and Netherlands, where he complimented his studies at the Royal Conservatories in Den Haag and Bruxelles. He was one of the finalists in Bruges International competition for early music in XXXX. As well as actively performing as soloist, orchestra, and chamber musician, he is the founder of the orchestra La Loge Olympique. Pierre-Augustin performs in many important musical venues all over Europe. He has made several recording with Harmonia Mundi, SWR, and Eloquentia. He plays a copy of a Joseph Guarneri cello made by Patrick Robin.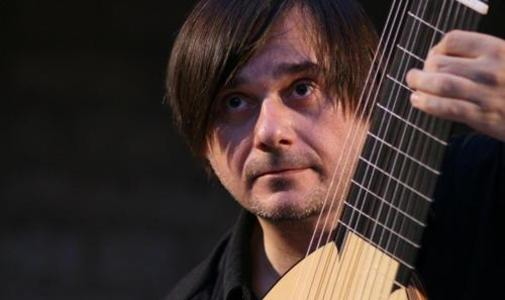 Edin Karamazov was born in 1965 in Zenica, Bosnia and Herzegovina. A protégé of Sergiu Celibidache, he began his musical career as a classical guitarist before taking up the Baroque lute, which he studied with Hopkinson Smith at the Schola Cantorum Basiliensis in Basle, Switzerland.
Karamazov made his solo debut as a lutenist in 1998, stepping in at the last minute for the legendary Julian Bream. Since then he has established himself as today's most exciting and charismatic player of the lute. His thrilling virtuoso performances on the lute and guitar, with a repertoire that ranges from 16th-century classics to the music of today, have garnered rave reviews and unprecedented critical acclaim in Europe and America. As a soloist he has performed and recorded with leading international early music ensembles and artists including the Hilliard Ensemble, Hespèrion XX, Andreas Scholl as well as Sting. A consummate interpreter and master technician on numerous early and contemporary stringed instruments, outstanding recital artist Edin Karamazov has appeared at numerous major venues, including the Amsterdam Concertgebouw, London's Wigmore Hall, Berlin's Philharmonie, and Vienna's Konzerthaus, among many others. Looking back to his early days, he continues to enjoy giving impromptu performances on the street.
His discography for Decca includes the CDs
A Musicall Banquet
– a collection of lute songs with Andreas Scholl and
Wayfaring Stranger
– folksongs with Andreas Scholl. The highly successful album
Songs from the Labyrinth
with Sting, released on Deutsche Grammophon, has not only made him a household name far beyond the confines of the early-music world but also launched a new "lute renaissance" for the 21st century. His latest recording for Decca has been released to great acclaim:
The Lute is a Song
comprises solo works by J. S. Bach, Leo Brouwer, Zamboni and Domeniconi as well as arias by Handel with Andreas Scholl, Purcell with Renée Fleming, a traditional Macedonian song with Macedonian singer and songwriter Kaliopi, and a work by and with Sting.
Edin Karamazov plays several plucked instruments of various cultures and epochs and remains committed to exploring the use of lutes in modern music and contemporary improvisational contexts. In addition to his solo career he enjoys accompanying singers in different styles and backgrounds.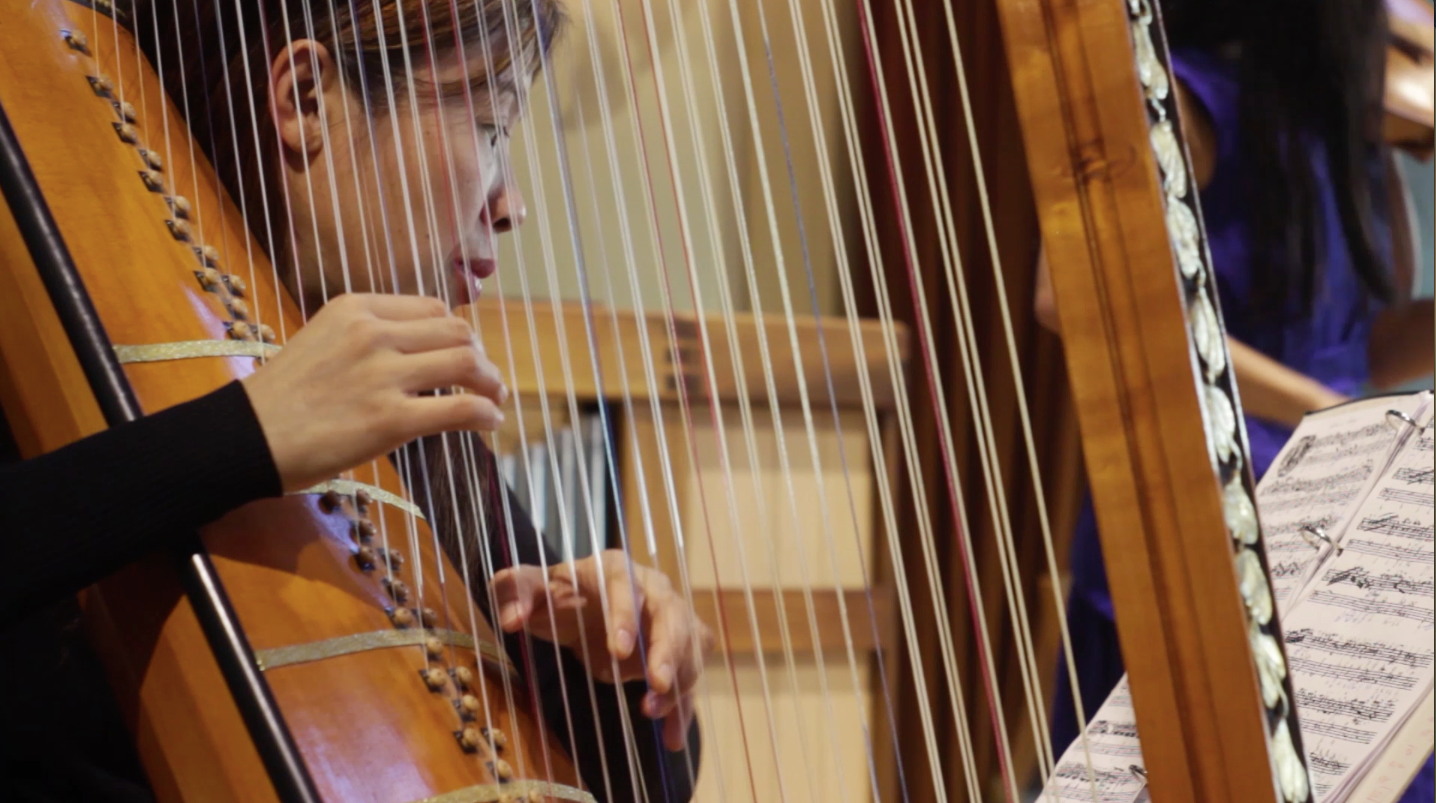 Masako Art (née Fujimura), began to play harp after long years of piano. After the university, she took historical harp lessons from William Taylor in Scotland and began her studies in medieval and renaissance music with Crawford Young and Heidrun Rosenzweig at Schola Cantorum in Basel, after which she finished with a diploma in Baroque harp in 2004. She went on to study with Mara Galassi in Milan and ended her studies with another diploma in Baroque Harp in 2009. Masako has taken part in opera productions with René Jacobs, Andrea Marcon, Peter Tilling and Jean-Claude Malgoire in Berlin, Innsbruck, Vienna, Basel, Stuttgart, München, Freiburg and Paris. She has played with renowned baroque orchestras such as Concerto Vocale, Akademie der alten Musik Berlin, Freiburger Barockorchester, La Cetra, Grand Ecurie et la Chambre du Roi, L'Arpa Festante, Capriccio Basel, La Nuova Musica, Virtuosi delle Muse, as well as in diverse chamber ensembles. She participated in recordings including those with Ferrara Ensemble (
Corps Feminin
), Luca Scandali and Stefano Molardi (Giovanni Maria Trabaci), L'Arpa Festante (Händel, Neun Deutsche Arien) and with Il Vero Modo (Arcadia, Love Letters), Il Profondo (La Pazza) and in CD/DVD "L'Orfeo" with Le Grand Ecurie et la Chambre du Roi, as well as radio/TV recordings by DRS, ORF, 3SAT, arte and FranceMusique. Since 2008 she has taught in Musikhochschule Luzern. In 2014 she took part in the world premiere of the opera "Das geopferte Leben" by Hector Parra at Münchner Biennale with Freiburger Barockorchester and Ensemble Recherche.

Her repertoire includes essential harp-obligato literature such as Monteverdi's 'L'Orfeo', Händel's 'Julius Caesar', 'Saul' and 'Esther', and Gluck's 'Orfeo ed Euridice' as well as the works of many Italian (Monteverdi, Frescobaldi, Mayone, Trabaci, Stradella, d'India, Carissimi, Caccini, etc), German (Froberger, Schütz, Schein, Telemann etc), and English (Purcell, Dowland, Lawes, John Parry, Händel etc) composers in solo/chamber music settings.
She is also an experienced player of 14th-early 16th century music, from Trecento to Frottola, Machaut to Agricola, and its contemporary solo keyboard settings.